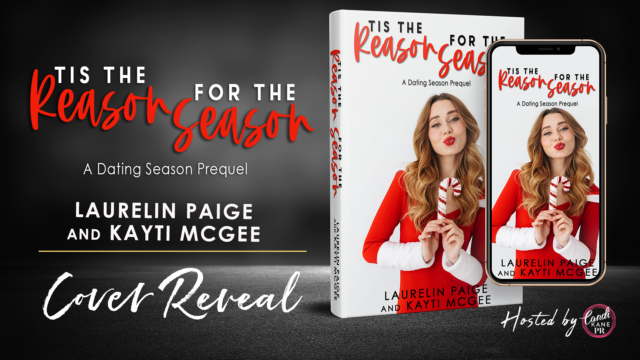 TIS THE REASON FOR THE SEASON by Laurelin Paige and Kayti McGee
A Dating Season Prequel
Release date: November 22nd
Genre/Tropes: Contemporary, Romantic Comedy
Start the Dating Season series NOW!
https://laurelinpaige.com/dating-season
Blurb:
There's only one thing I want to unwrap this year… my best friend's roommate.
I've known Austin for years now, and crushed on him just as long.
He's smart, funny, and hot enough to melt an ice cap.
I'd really like to stop fantasizing and finally visit his North Pole.
So tonight's the night.
Charlotte and Austin are hosting the costumed Christmas party to end all costumed Christmas parties. Or perhaps the first to start the trend? Regardless, this is my chance to finally confess.
This year, I'm going to hang my stocking on Austin's door… and hope it's not just his heart I convince to grow three sizes bigger.
About Laurelin Paige:
With millions of books sold worldwide, Laurelin Paige is a New York Times, Wall Street Journal and USA Today Bestselling Author. She is a sucker for a good romance and gets giddy anytime there's kissing, much to the embarrassment of her three daughters. Her husband doesn't seem to complain, however.
When she isn't reading or writing sexy stories, she's probably singing, watching Killing Eve or Letterkenny, or dreaming of Michael Fassbender. She's also a proud member of Mensa International though she doesn't do anything with the organization except use it as material for her bio.
She is represented by Rebecca Friedman.
Connect w/Laurelin:
Facebook: https://www.facebook.com/LaurelinPaige/
Amazon: http://amzn.to/2knJOrx
Bookbub: https://www.bookbub.com/authors/laurelin-paige
Instagram: https://www.instagram.com/thereallaurelinpaige/
Facebook Fan Group: https://www.facebook.com/groups/HudsonPierce/
Website: http://www.laurelinpaige.com
TikTok: https://vm.tiktok.com/ZMR96wbuf/
Never miss an update! Subscribe to Laurelin's mailing list:
Newsletter: http://bit.ly/LaurelinNews
About Kayti McGee:
Livin' deliciously in beautiful Kansas City Missouri, where everyone else loves the Royals as much as I do. I like wine and murder shows and mountains and art.
I'm represented by Rebecca Friedman at Friedman Literary because I am a lucky, lucky girl. Call her if you want me to do Iron Chef, otherwise just hit me up on FB at http://www.facebook.com/kaytimcgeeauthor, on Insta @KaytiMcGeeWrites, and stay sexy.
Connect w/ Kayti:
Facebook: https://www.facebook.com/Kayti.McGee.Author
Join Kayti's Readers Group: https://www.facebook.com/groups/kaytimcgeesredlightdistrict
Bookbub: https://www.bookbub.com/authors/kayti-mcgee
Amazon: https://amzn.to/2QWMugb
Goodreads: https://www.goodreads.com/author/show/7369993.Kayti_McGee
Instagram: https://www.instagram.com/kaytimcgeewrites